Lýsing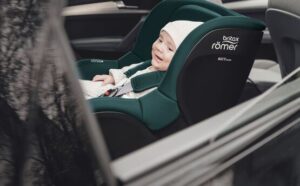 LONG-LASTING COMFORT FOR YOU AND YOUR CHILD
Children grow fast – but even if they've outgrown their clothes, they'll still fit their car seat. When you move on from an infant carrier, the DUALFIX PRO M keeps your little one protected and comfortable in the car from 3 months to 4 years. The seat has 12 recline positions and a V-shaped headrest that provides support and space as your child grows, so they can take a nap or explore the world with their eyes. Plus, it can be rotated effortlessly from any position without needing to disturb your little one.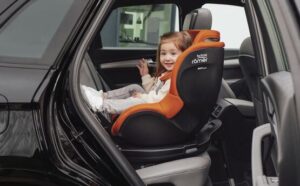 ALL-ROUND PROTECTION – NO COMPROMISES
Make safety your top priority with the DUALFIX PRO M car seat. Built to more demanding specifications than the current industry standard (UN R129), your child is protected on every journey, even if the unthinkable happens. The DUALFIX PRO M includes optimised side-impact protection system to provide superior safety in a side collision. Plus it has an innovative support leg and solid rebound bar to protect your child from any impact. You'll have peace of mind wherever your adventures take you.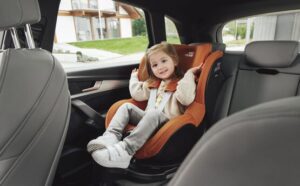 QUALITY AND ENGINEERING – MADE IN GERMANY
Put your child's safety in the best hands. From initial idea to finished product, our whole development process is under one roof, so you're investing in the highest quality and low transport emissions. With state-of-the-art testing that's more rigorous than the legal standards, you can rely on the DUALFIX PRO M to ensure your child's safety.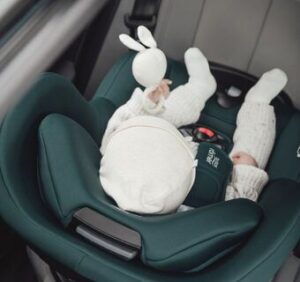 DEEP, SECURE SIDE WINGS
Cocoon your little one with the soft, padded side wings of the DUALFIX PRO M, helping to keep them safe and protected from impact in the event of a collision.
Skoða stólinn nánar á heimasíðu framleiðanda
Athuga hvaða stólar frá Britax passa í bílinn þinn
Af öryggisástæðum er ekki hægt að skila bílstólum né base-um. Við bjóðum upp á að máta stólinn/base-ið í bílinn ef þess er óskað í verslun okkar til að ganga úr skugga um að hann passi. Við mælum ekki með að senda öryggisvöru eins og bílstóla og base með flutningsaðila, mælum frekar með að slík vara sé sótt í verslun okkar.