Lýsing
Hinn eini sanni Tripp Trapp stóll sem vex með barninu. Hannaður af Peter Opsvik árið 1972. Gegnheill beykiviður, framtíðareign sem nýtist barninu alla ævi!
Stóllinn er stilltur á mismunandi hátt miðað við aldur barnsins og má því segja að hann fylgi þroska barnsins vel.
Stóllinn þolir allt að 136 kíló og hentar jafnt fullorðnum sem börnum. Frá 6 mánaða til 2 ára er ætlast til að ungbarnasett sé á stólnum og mælst er til að beisli sé notað með.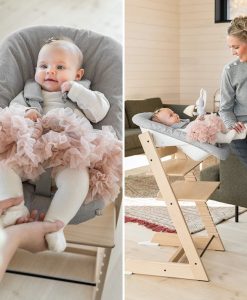 From birth
The Newborn Set lifts your baby to table height to join you at the family table from day one. With 2 angle adjustable positions and excellent leg support, your newborn is assured a cozy environment. Safe & simple to use, it can be easily be attached and removed from the Tripp Trapp® chair. Red-green indicators reassure you it is mounted correctly and includes a 5-point harness with protective shoulder pads. Newborn to 9 kg.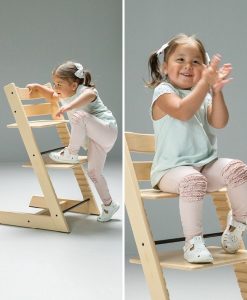 Freedom of movement
The ground offers toddlers and children the freedom to explore and move in a way that is natural to them. It is here that they learn balance, coordination and literally find their footing. With its unique and adjustable footplate, the Tripp Trapp® chair brings the floor to your child so they can move freely at every age.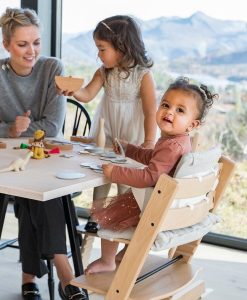 Brings your child to the table
Iconic design by Peter Opsvik allows you to bring your child to the table. Time at the table gives families an opportunity to come together, eat, talk, laugh and bond. Children's development during their first years is crucial. Their experiences during early childhood provide the foundation for future learning and health. From birth, to toddler and throughout childhood.

Adjustability
The Tripp Trapp® chair grows with your child. Intelligent, adjustable design allows freedom of movement with both depth and height adjustable seat and footplates. This means, that when adjusted correctly, your child is ensured a comfortable and ergonomic seating position at any age.
Longevity
The Tripp Trapp® chair is made primarily of European beech and oak woods, some of the best of which is found in central Europe and sourced responsibly following the principals of sustainability. Known for their strength, durability and flexibility, both beech and oak wood are natural choices for making furniture that lasts for generations.
Specification
Product Size: 

49 x 46 x 79 cm

Weight: 

6.471 kg

Suitable for age: 

from 0 (months)

Suitable for Weight: 

up to 136 kg